Schaeffer Micron Moly Racing Oil 20W-50 Part # 0191-012 Twelve (12) Quarts
Available
$163.50
---
Product Information
| | |
| --- | --- |
| UPC | 334382771423 |
| Product Type | Shipped Product |
| Shipping Cost | $0 |
| Number of reviews | 0 |
Schaeffer Micron Moly Racing Oil 20W-50 Part # 0191-012 Twelve (12) Quarts
 This sale is for the 20W-50 weight oil.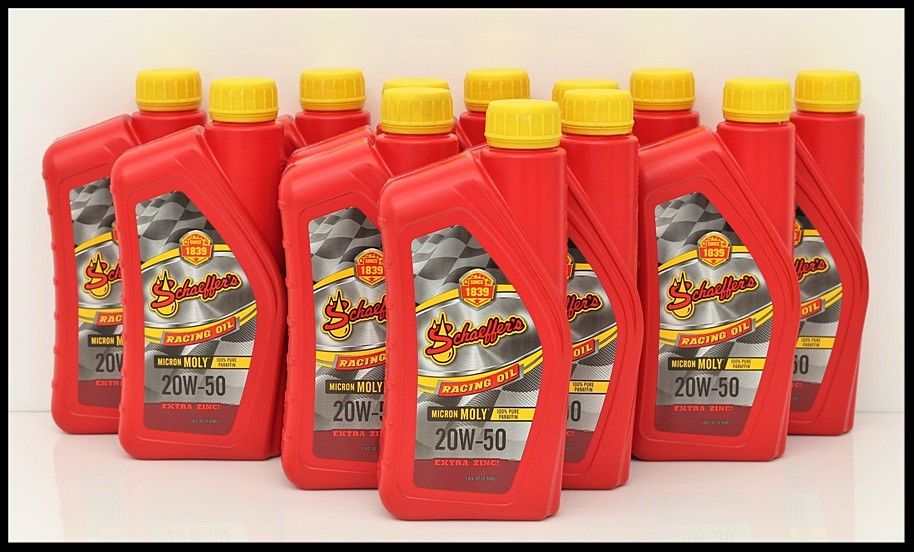 Micron Moly® Racing Oil SAE 20W-50 is a superior quality high zinc containing, multigrade motor oil that is specially formulated to reduce friction and wear, increase engine efficiency and extend the engine life of high performance gasoline engines, especially those that contain flat tappet cam engines and those that are turbocharged. 
Micron Moly® Racing Oil SAE 20W-50 is also designed for those that are designed to burn alcohol based racing fuels. Micron Moly® Racing Oil SAE 20W-50 is blended from the finest high viscosity index solvent refined severely hydro-finished 100% paraffin base stocks available. These 100% paraffin base stocks provide Micron Moly® Racing Oil SAE 20W-50 with:
1. Excellent Thermal Stability
2. High Lubricity
3. Excellent Resistance to Oxidation
4. Excellent Film Strength
5. Low Volatility Characteristics
6. Resistance to mixing with alcohol based fuels
Blended into these 100% paraffin base stocks is a highly specialized performance additive package and a proven highly shear stable viscosity index improver. This highly specialized additive package and the highly shear stable viscosity index improver allows the Micron Moly® Racing Oil SAE 20W-50 to provide the following performance advantages:
1. Outstanding protection against the formation of high temperature deposits.
2. Exceptional protection against thermal breakdown during high engine oil operating temperatures.
3. Rapid circulation and excellent pumpability.
4. Excellent resistance to thinning at high temperatures.
5. Extra protection for hot running engines.
6. Extra protection for cold running engines in stop-and-go service.
7. Excellent high temperature/high shear performance to provide excellent oil film thickness and engine protection.
8. A substantial reduction in ring and cylinder wear. Reduced bearing wear and increased bearing life.
9. Excellent rust and bearing corrosion protection.
10. Increased engine cleanliness. Excellent anti-foaming properties.
11. Increased fuel economy benefits and retention for improved gas mileage during the oil's entire oil drain interval.
12. Superior valve train-wear protection. Increased engine life.
Further blended into the 100% paraffin base oils, the performance additive package and the viscosity index improver are two proven frictional modifiers, Micron Moly®, a liquid soluble type of Moly and Schaeffer Mfg's own proprietary additive Penetro . These two proven frictional modifiers, once plated, form a long lasting lubricating film, which prevents the metal surfaces from coming into contact with each other. By preventing metal-to-metal contact, damaging wear is prevented.
This prevention of metal-to-metal contact and reduction in wear results in:
* Increased fuel economy
* A low coefficient of friction
* Significantly less bearing, ring, piston, cylinder, and valve-train wear.
* Increased engine efficiency, durability and life
* Less down-time which reduces maintenance costs
Micron Moly® Racing Oil SAE 20W-50 is also recommended for use in most types of 4-cycle air-cooled or water-cooled motorcycle engines and ATV engines, including those motorcycles that have a common sump for the engine and transmission (non-metallic clutches only). 
Micron Moly® Racing Oil SAE 20W-50 is NOT recommended for use in those motorcycle and ATV applications that specify engine oil that meets JASO MA or MB. Use of Micron Moly® Racing Oil SAE 20W-50 in applications that specify JASO MA or MB oil can cause slippage and improper engagement of the clutch mechanisms. 
Micron Moly® Racing Oil SAE 20W-50 is also NOT recommended for use in 4-cycle marine engines that specify the use of a NMMA FC or FC-W four cycle engine oil.
Our sales staff has limited technical knowledge on this product and are usually unable to answer many of the questions asked. See our other listings for variations of this product.

 

 

We are not responsible for collateral damage caused by the use of this product.

 
RETURN POLICY
Should a problem occur, please contact us. If a return is necessary, please contact us for an RGA number and return authorization. The RGA number must be included on the return label. If an item is returned without an RGA number, it will not be processed. A full description of what the problem is needs to be included with any returned product with your contact info, and proof of purchase. Even though you may have explained the problem to us, and been granted permission to return the product, we must have a written explanation and a contact number included with the product. It is also recommended that you include the name of the person from our company that you have been in contact with. You must send the item back to us in a trackable manner (USPS Priority Mail, FedEx, etc.) and keep the tracking info of the returned product. Please give ample time for returns to be processed. Following these guidelines will make the return process work as it should.  
ually as the map shows, but many factors can delay this.  
PAYMENT AND SHIPPING DETAILS.
We offer great discounts on shipping. You only pay the full shipping fee on the highest shipping cost of your items, and HALF PRICE shipping on all additional items. Few offer discounts on shipping such as this. Our checkout system will automatically calculate your shipping discount at the time of final payment, providing you consolidate your payment.
You may receive a verification and tracking number shortly after purchase, but this does not necessarily mean that your product has shipped. It would be fair to say that 98% of products will be going out the day the shipping label is issued. On occasion, the product may not ship out until the next day after the label has been issued. Most products purchased late in the day will not be shipped until the next day.  
If you checkout and start over, the auto calculator will not recognize the multiple purchases, and there will be no shipping discount. 
UPS is our primary shipper. We are unable to ship to APO/FPO addresses or PO Boxes. Help us ship your order promptly by including your physical address at checkout. Below is a map representing the estimated delivery time to get to you from our location.
Delivery times may vary, especially during peak periods.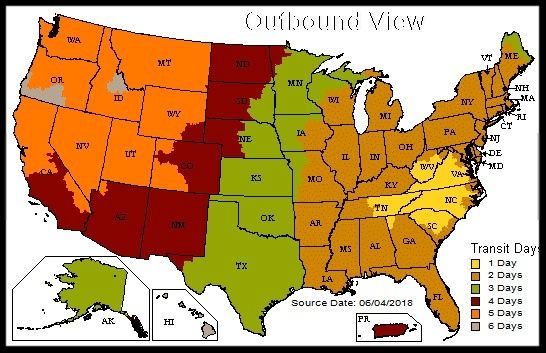 UPS delivers Monday - Friday, except for national holidays. If a package leaves here on a Thursday, and you are in a 2 day delivery zone, your package will deliver to you on Monday. Expedited shipping is available upon request for an additional fee. Please contact us for rates. The estimated shipping time is usually as the map shows, but many factors can delay this. 

Alaska is in a 3-day ship zone, Hawaii is in a 6-day ship zone, and Puerto Rico is in a 4-day ship zone. Additional fees will apply to shipments to these areas, as noted below.
The shipping quoted in this ad is only for the 48 continental United States. If shipping to anywhere else, please contact us. The half price shipping on all additional items also only applies to items that are being shipped in the 48 continental United States.

Customer Reviews
This product does not have any reviews yet.