PROCOMP BBC CHEVY ELIMINATOR POLISHED INTAKE MANIFOLD PC-3025/ PCE 147.1033
$230.80
Available
---
Product Information
| | |
| --- | --- |
| UPC | 370484041116 |
| Product Type | Shipped Product |
| Shipping Cost | $0 |
| Number of reviews | 64 |
PRO COMP OVAL PORT INTAKE MANIFOLD (POLISHED) PCE147.1033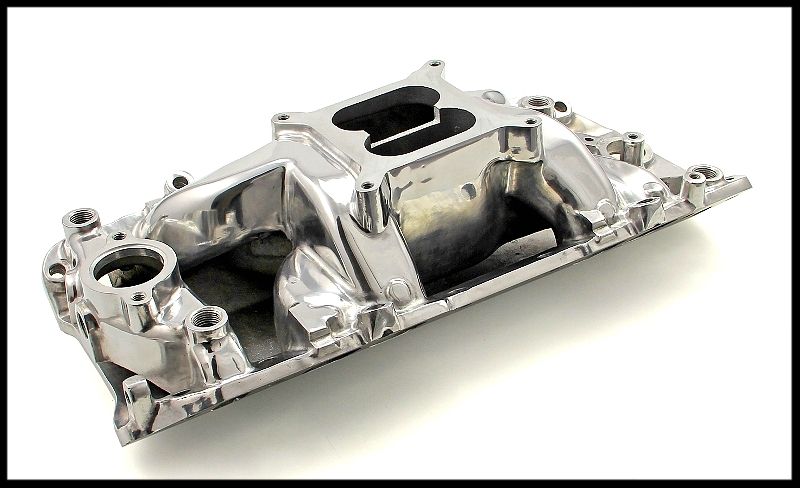 Chevy BBC 454 Eliminator Oval Port Intake Manifold Polished
This new manifold is a special POLISHED version of the PC-3026. While it is the exact same height, it features an open area under the plenum chamber. this provides for a flow of cooling air which keeps the temperature of the air/fuel charge lower,thus producing more power and torque. The interior plenum and port design are identical to the PC-3026 and will provide somewhat better overall power than the PC-3026 due to the special design.
Part
Number
RPM
Range
Intake Port
Dimensions
Manifold
Height
3025
1500 - 6500
2.05" x 1.82"
5.22"
It fits BIG BLOCK CHEVY OVAL port carbureted engines, or those being converted to carburation.
It is a non-EGR equipped, 180° dual plane high rise intake manifold and is an outstanding high performance street manifold that produces more power and torque from 1500 to 6500 RPM than similar competitive manifolds yet sells for a lot less money.
Manifold specifications:
- Part Number PC-3025
- RPM Range 1500-6500
- Intake Port Dimensions 2.05" x 1.82"
- Manifold Height 5.22"
Recommended Intake Gasket Fel-Pro 1212
The light weight aluminum reduces front end weight over stock cast iron models.
Heat dissipation is another plus of aluminum over cast iron. Engines run better if the intake can rid itself of heat.
Our aluminum intakes are cast from steel molds, not sand molds. They provide a tighter grain casting, therefore reducing the occurrence of porosity which can mar the finish.
No drawback to using this intake. Only a great savings in money!
Nice part, fast shipper, great person to eBay with

Reviewed by z***9 on Dec. 17, 2016, 6:30 a.m. | Permalink

This review has no votes.

Great seller!!!

Reviewed by e***u on Dec. 17, 2016, 5:09 a.m. | Permalink

This review has no votes.

Thanks for the parts

Reviewed by 4***o on Dec. 5, 2016, 4:23 a.m. | Permalink

This review has no votes.