We have seen others market a knockoff, no name damper that has to be the worst product on the market. We have nothing against knockoff products, but some are worth warning about. These low quality dampers being sold by many have a poor appearance and the center hole is often out of spec, with a dull finish. The casting was not machine finished; it was rough cast, as you would see on an engine block. 
Replace your worn-out damper!
What concerned us more than anything is knowing that the design of an elastomer style damper is very critical to how well the material is bonded between the inner and outer ring. This must be able to withstand the constant oscillation and heat for many years. The elastomer must be made of a material that won't dry out any time soon. 
One more very important aspect of this material is its Durometer rating. The Durometer rating, or resilience, is very important, as it should be in tune with the crank harmonics or it will not be able to do its job properly. Knowing how much pride the Pro Race company takes in everything they make, we are confident this factor has been addressed.  
When we're standing over an engine to set the timing, we usually have to rev the engine up to around 4000 rpm or more to make sure we get a total timing reading, as most distributors have very resistant springs in them.
We would never sell a damper that could develop a fracture or already have one in it. It could break under high RPM and whoever is standing above it would be at risk of death or serious injury. 
Harmonic Balancer…Crankshaft Harmonic Damper…Torsional Vibration Damper….
The term so often used for this component is harmonic balancer, which suggests the unit "balances" the engine. In generality this statement is misleading…. a better description for this component is a harmonic damper or torsional vibration damper. This better describes the actual function of the unit.
Torsional vibration occurs in the crankshaft of engines, as a result of the combustion process. The sudden reversal of load on the piston, connecting rod and crankshaft during compression, followed by the ignition or firing of the compressed fuel and air in the combustion chamber. Subsequent relaxation of the load following combustion causes deflection or flexing of the crankshaft. This oscillating vibration which results from the reciprocating load changes will remain in force until dissipated by internal friction or damping. At certain rpm ranges these oscillations can come into phase with each other creating potentially damaging torsional peaks in the crankshaft.
Unless the amplitude of these torsional vibrations is controlled, major damage can occur to engine components, such as rapid wear of the timing sprockets, stretching or breakage of the timing chain, pitting or cupping of the camshaft and lifters, broken valve springs and valve train failure, reduced service life of crankshaft bearings. In extreme situations uncontrolled torsional vibrations can lead to a loose flywheel or a broken crankshaft with serious safety consequences.
Why use a tuned elastomer (rubber) damper…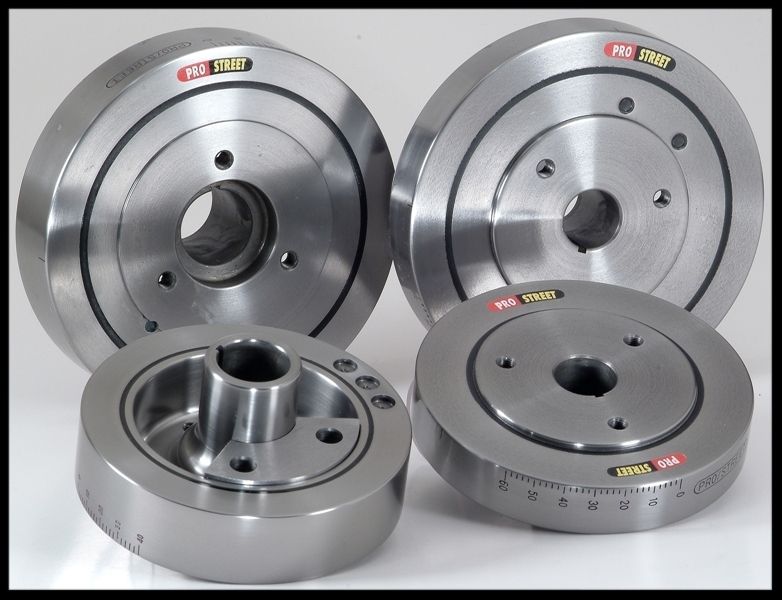 Elastomer harmonic dampers have been used exclusively by Automotive OEM's for car engines, no matter what brand of vehicle, be it local or imported. The reason is simple, they have found that a tuned elastomer damper is able to reduce destroying crankshaft harmonics more effectively and over a wider range of RPM's than other styles of dampers.

PRO/RACE, PRO/SPORT and PRO/STREET tuned elastomer dampers are also marketed as private label models by Ford Racing, Mopar Performance and others. These groups tested a number of aftermarket dampers including fluid or viscous style dampers prior to selecting PRO/RACE and PRO/SPORT tuned elastomer dampers which provide superior dampening for rapidly accelerating, high RPM engines. 
 Our dampers feature:
"Nodular Iron Construction – Most cast dampers are manufactured from gray iron castings. Nodular iron is over 30% stronger than gray iron.
Bonded Elastomer – Outer ring and inner hub are bonded (vulcanized) to the elastomer. This minimizes the potential for the outer ring to move on the hub, losing true TDC position.
Tested at over 18,000 RPM!
Removable Counterweights – Externally balanced models feature bolt-in counterweights, making it easy to switch from an externally balanced engine to an internally balanced engine.
Precision Balanced – Dampers are machined and precision balanced. • 60o of permanent easy to read timing marks (40o on SB Ford models)
About Nodular Iron
Nodular Iron, also referred to as ductile iron, is typically the material used for heavy duty or racing applications of cast iron products. It is approximately 30% stronger than gray iron. So it was only natural that when PRO/RACE developed the heavy duty OE replacement PRO/STREET dampers, high strength nodular iron was the material of choice.
While PRO/STREET dampers are not intended for racing, the fact that they are cast of nodular iron, as opposed to ordinary gray iron, means that they are suitable for higher
RPMS than most competitive models. (Note: The PRO/STREET Nodular Iron Harmonic Dampers are NOT SFI certified). However to prove the integrity of the PRO/STREET dampers, we had the SFI test lab run some spin tests. The PRO/STREET damper was subjected to 8,000rpm for one hour, and then 12,500rpm for 15 minutes with no sign of degradation! (note: this by no means suggests the PRO/STREET damper should be used in extreme applications – use PRO/RACE or PRO/SPORT for high performance applications).
Bonded elastomer
Unlike many OE dampers, or other replacement style dampers, the PRO/STREET range feature a bonded elastomer! The elastomer is injected at high temperature and under extreme pressure. In fact during the manufacturing process EACH AND EVERY PRO/STREET damper is subjected to elastomer bond test of 3000lbs (2000 lbs on 24262) separation force. If there is any sign of bond degradation then the damper is scrapped. Many OEM dampers aren't bonded at all
Removable Counterweights
Harmonic dampers are supplied in two styles; those for internally balanced engines and those for externally balanced engines. Externally balanced engines have a counterweight bolted into the hub of the damper. The advantage of having a removable counterweight in the hub eliminates the possibility of having the counterweight mass move from its position plus it provides an extremely accurate external balance mass.
The PRO/STREET Damper for internally and externally balanced small block and big block Chevys and for small block Chryslers is identical except for the counterweight. This means, for example, if you have a PRO/STREET Damper for a 400 small block Chevy you can remove the counterweight and the damper will work perfectly for a 350 Chevy. Conversely, if you have a 350 Damper and want to use it on a 400 you can now purchase the proper PRO/RACE counterweight and bolt it into your 350 damper and it is now a 400 damper.
All Ford dampers are externally balanced with a counterweight. This counterweight can be removed for use on internally balanced engines.
Machined to tolerances exceeding OEM specifications!
The PRO/STREET dampers have been machined to tolerances far exceeding those used by OEM's. Just take a look at the overall surface finish and oil seal and bore of the damper! Permanent rolled-in timing marks are very visible and will never fade or become less visible!
Brand Name You Can Trust
These dampers are from PRO/RACE Performance, a leading manufacturer of racing SFI-Spec. dampers, so you know they are a high quality, yet affordable, damper for heavy duty street or replacement applications. Note: Externally balanced models are supplied with the necessary counterweights. Counterweights are also sold separately.
No Name Products
As we mentioned, stay away from the no name, or ultra low cost dampers. A final note: get rid of that tired old damper on your engine. The elastomer ring is dried out and is most likely not dampening the damaging crank harmonics. This can lead to fractures in the crankshaft. It is claimed that dampers that are not doing their job can cost horsepower. This is most likely due to the fact that the crank harmonics are not being dampened, and create a drag in the engine.