Product Information
| | |
| --- | --- |
| UPC | 330870652432 |
| Product Type | Shipped Product |
| Number of reviews | 0 |
SBC CHEVY OEM HYDRAULIC ROLLER LIFTERS SET OF 16 FOR USE IN MOST CHEVY V-8 ENGINES
MADE BY MELLING ENGINE PARTS.
These are to be used with a hydraulic roller camshaft.
THIS IS A FULL SET OF 16 FOR USE WITH GM ROLLER BLOCKS.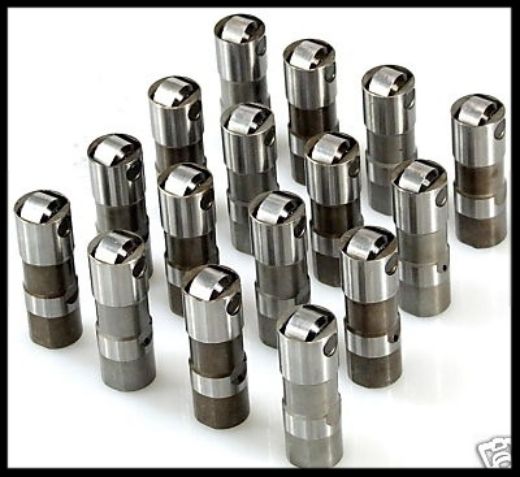 These are for SBC 1984-2001 Chevy V8 engines that came with a factory hydraulic roller cam. Be sure you have a roller block before purchasing. The Corvettes were the first to use this type of lifter in the mid 80's. It wasn't till the early 90's around 92 if memory serves that GM went roller cam in most of the engines.
You will receive a complete set of 16 brand new lifters. We receive our lifters in bulk trays made for engine builders. We then break them into sets. The cost savings is well worth the difference. These are genuine Melling brand lifters.
When it comes to lifters, we take no chances. Many of the low cost lifters on the market are well known to be faulty in design. Do a search on Google on hydraulic lifters and you will be amazed just how many low grade lifters are on the market and the problems they have caused. These low grade lifters will most likely begin to fail upon start-up or shortly after, not to mention having improper valving, allowing them to "pump-up" as it's referred to or possibly collapsing. This is not a sales hype, cutting down low cost no name products on the market, as we sell many such items, but when it comes to lifters we know of the problems experienced by many with such lifters.
We would certainly like to offer a lower cost lifter if we knew it to be correct in all specs, and metallurgy, but they simply don't exist. The Melling lifters are made in North America. Those not mentioning the brand or country of origin on lifters are most likely selling an offshore lifter. The close tolerances needed on lifters leaves no room for error. The hardness of the metal must also be correct, as well as the valving. These lifters will allow rpm ranges up to 6000 rpm with no issues providing the cam size is at or below .540 lift. Those running in upper rpm range may consider going to a tie bar retro style lifter, as they are usually able to handle a bit more rpm. Our Melling lifters do very well on our 350 and 383 engine builds with cams in the .540 lift and below range at a max rpm of approx. 5500. If you are running a cam that's slightly higher in lift than .540 lift, and the rpm is in the lower 5000 range, then the use of these lifters may be suitable.
Comparing pricing against other no name brand lifters is not wise. Even those that claim to have used the low grade lifters without a problem are most likely unaware that the valve train operation is erratic and is resulting in a power loss. Be cautious when buying lifters that they are from a notable company.
Melling Heavy Duty Roller Hydraulic Valve Lifters (HD RHVLs) are valve train components that convert the rotation of the cam shaft into linear motion. The roller provides minimal friction at the cam/lifter interface. The Melling HD RHVLs automatically eliminate clearance between valve train components to provide an adjustment and a maintenance-free system. The key to the automatically adjusting system is a high pressure chamber and the control of engine oil out of, and into, the chamber. A plunger that resides in the lifter body has a precise clearance to the body, forming an annulus. When the plunger is loaded during valve lift, oil is expelled through the annulus. During valve lift, the plunger expels oil, allowing the plunger to displace a small distance within the body. When the engine valve closes and the load is removed, the plunger spring and oil pressure keep the valve train components in contact. The plunger moves within the body to recover the distance that the plunger traveled during loading, plus or minus any changes that may have occurred. The check valve opens and refills the chamber. This process is repeated for every valve event providing continuous automatic adjustment.
These Heavy Duty Roller Hydraulic Valve Lifters also feature a metered oil supply for lubrication of the engine overhead through the push rod. The metering valve is designed to minimize sensitivity to contamination. Diesel engine oils can contain significant amounts of soot created by the combustion process. Melling HD RHVLs have optimized material and heat treatment specifications, and surface texture specifications to minimize the abrasive wear that can occur with the presence of soot.
Benefits
- Anti-varnish design minimizes sensitivity to accumulation of dirt, gum and varnish
- Chrome alloy ball check valve provides more precise valve opening and closing events
- Hardened steel body and plunger minimize wear for life-of-engine service and minimize sensitivity to diesel engine soot
-Low-friction roller bearing with optimized surface textures helps maximize fuel economy and minimizes wear from diesel engine soot
- Roller surface is optimized to minimize the cost of cam lobe processing without loss of performance
- Oil metering provides lubrication to push rod interfaces and other valve train components
- Optimized dynamic performance design enables better control of the valve event at all engine speeds
Typical Applications
Melling Heavy Duty Roller Hydraulic Valve Lifters are designed for all cam-in-block internal combustion engines. They can be used in diesel, gasoline or alternative fuel engines.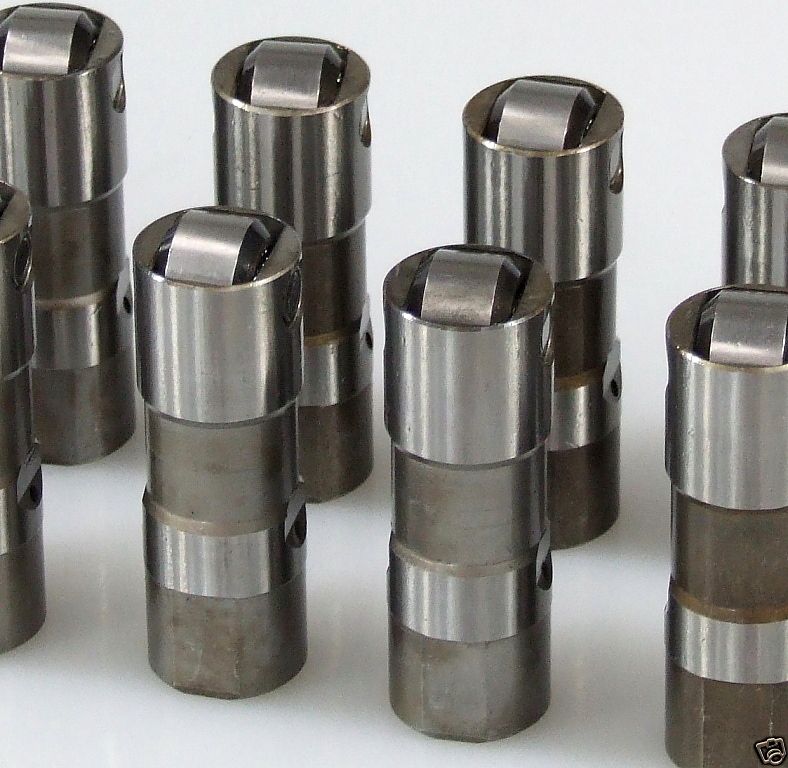 Our sales staff has limited technical knowledge on this product and are usually unable to answer many of the questions asked. See our other listings for any variations of this product.

We are not responsible for collateral damage caused by the use of this product.
Customer Reviews
This product does not have any reviews yet.