SBC BBC CHEVY MSD STREET FIRE HEI DISTRIBUTOR # MSD-8362
$156.95
Available
---
Product Information
| | |
| --- | --- |
| UPC | 371359577397 |
| Product Type | Shipped Product |
| Shipping Cost | $0 |
| Number of reviews | 180 |
MSD STREET FIRE HIGH PERFORMANCE CHEVY HEI DISTRIBUTOR
BRAND NEW IN THE BOX. FIRST LINE ITEM.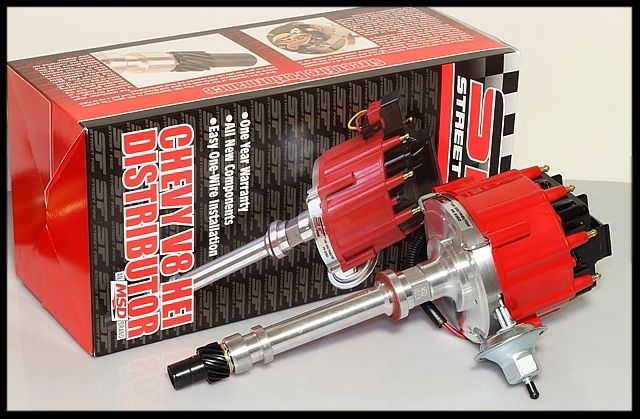 CHEVY V-8 SBC AND BBC MSD HEI DISTRIBUTOR.
| | |
| --- | --- |
| Advance Design | Vacuum and mechanical |
| Cap | Male/HEI |
| Computer-Controlled Compatible | No |
| Cap Color | Red with black coil cover. |
| Distributor Gear Rotation | Standard |
| Gear Material | Steel |
| Housing Finish | Polished |
| Housing Material | Cast aluminum |
| Ignition Box Required | No |
| Marine Use | No |
| Mechanical Tach Drive | No |
| Notes | The shaft diameter on this distributor is .491 in. Coil included. |
| Quantity | Sold individually. |
| Slip Collar | No. Fixed |
| Trigger Style | Magnetic pickup |
Be sure you have sufficient firewall clearance. This unit is one full inch wider in diameter, and approximately one and a half inches taller compared to a point style distributor. If your car came equipped with an HEI unit, then you will not have a problem at all. The firewall tunnel on many point style distributor equipped GM vehicles may allow space for the HEI unit, but be sure before purchasing. For those that find this unit may not work, we have a small base ready to run HEI unit. It has a base and cap the size of an original point distributor, but requires an external coil. These are called, "Ready to Run or Small Base HEI Distributors." See our other listings for a full variety of distributors.
COMPLETE DISTRIBUTOR: WITH COIL, MACHINED ALUMINUM BODY, STEEL SHAFT, GEAR, MODULE, AND PICKUP!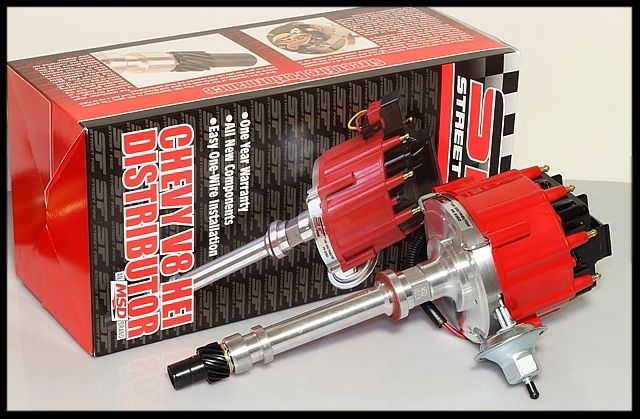 FITS ALL BIG BLOCK AND SMALL BLOCK CHEVY ENGINES THAT ARE CARBURETED, (WILL NOT FIT 350 366 OR 427 INDUSTRIAL LARGE TRUCK OR BUS ENGINES.)
This is the last distributor you will ever have to buy!
TECH INFO, PLEASE CALL 423-722-5152
WE ARE THE NO.1 WHOLESALE MARKETERS OF HEI DISTRIBUTORS IN THE COUNTRY.
THIS UNIT WILL FIT MOST ANY CARBURETED V-8 CHEVY ENGINE MADE EXCEPT COMMERCIAL/INDUSTRIAL 427 and 366 ENGINES. YOU CAN REPLACE YOUR POINT STYLE DISTRIBUTOR WITH THIS. THE DIFFERENCE IN PERFORMANCE IS DRAMATIC TO SAY THE LEAST.
BRAND NEW IN THE BOX. FIRST LINE ITEM.
THIS HEI FITS MOST SMALL AND BIG BLOCK CHEVY ENGINES FROM 55 UP TO 86. BB & SB!!!
Will also fit later V-8 engines that have converted to carburetor.
Our company president, Skip W. strongly recommends the universal 90 degree wires, as they will fit perfect. Those that were running a point system often used 7mm plug wires, and this is not sufficient to carry the high voltage produced by the HEI unit. It is recommended that you use 8mm or larger plug wires. See our other listings for many needed accessories.
This distributor will fit most all Chevy V-8 carburated engines with a four pin module. It will fit earlier model engines equipped with point style distributors. Fire wall clearance may be an issue on some early model cars, but we have found many to fit with good clearance.
MESSAGE US IF YOU HAVE ANY TECHNICAL QUESTIONS
This is the perfect upgrade for your classic Chevy, or just part of a tune-up. It would not be practical to re-install the original HEI back into your engine if you are overhauling it.
Here are a few problems you are most likely to encounter, when using an old distributor.
excessive end shaft play
bushing wear
weak coil, worn or cracked cap, and button
weak module
corrosion buildup
weakened advance springs
gear wear
if going from points to HEI this alone is a huge upgrade
All of the above can greatly affect the performance of your engine.
These are just a few of the things that most old distributors have going on with them. For the low cost of a complete brand new one, it just makes little sense to used the original distributor. When we rebuild any early model Chevy engine, we insist the customer purchase a new distributor. You will notice a performance difference in your engine if you have any of the above issues with your old distributor. All of the old HEI's we see have excess end play in the shaft. I'm sure the coils on them are not at full voltage. This is much more than the oem model. All car makers have dramatically improved the ignition systems on cars and trucks. This is an indication of how important good ignition is to an engine.
I consider this the absolute best mod you can do to your engine.
WE HAVE ACCESSORY ITEMS AVAILABLE FOR THIS DISTRIBUTOR
great buy

Reviewed by f***e on Jan. 9, 2017, 9:43 p.m. | Permalink

This review has no votes.

Perfect

Reviewed by d***e on Dec. 24, 2016, 9:04 p.m. | Permalink

This review has no votes.

Thanks very fast shipper

Reviewed by u***n on Dec. 21, 2016, 1:02 p.m. | Permalink

This review has no votes.