Product Information
| | |
| --- | --- |
| UPC | 332683055042 |
| Product Type | Shipped Product |
| Number of reviews | 0 |
351-W FORD INTAKE MANIFOLD (SATIN) PCE 147.1052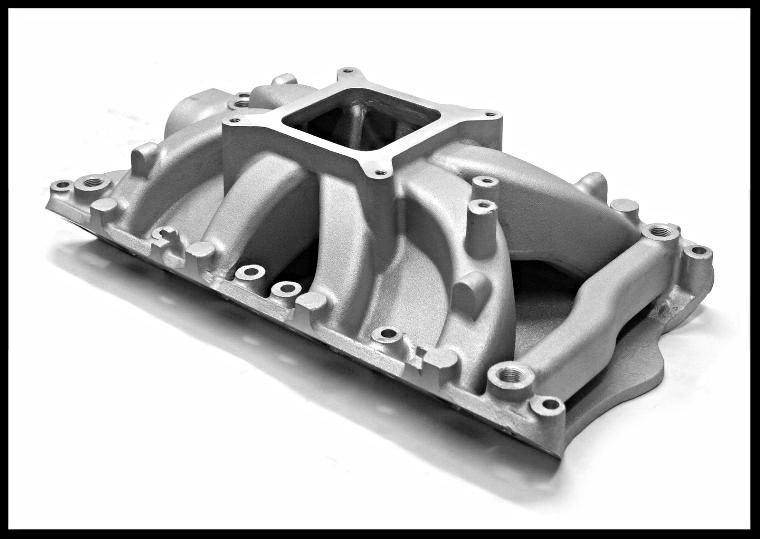 B

rand:

Speedmaster

Part Number:

PCE147.1052

Part Type:

Intake Manifold, Carbureted

Product Line:

Shootout Series

Engine Block Style:

Stock/OEM standard deck

Carburetor Quantity:

One

Intake Style:

Single plane

Basic Operating RPM Range:

3,500-8,000

Intake Manifold Height:

5.680 in.

Intake Material:

Aluminum

Intake Finish:

Natural

EGR:

No

Quantity:

Sold individually.
It fits all 351-W FORD carbureted engines or those being converted to carburetor.
3500-8000 RPM range
This Shootout Manifold for Ford 351W engines has several features not found in similar competitive manifolds.


It has a bridged rear water crossover passage which contributes to a cooler running engine.


It also comes with injector bosses than can be drilled and tapped for nitrous nozzles
If you are looking for the utmost performance for the very least cost, this is your manifold. No drawback to using this intake. Only a great savings in money!
The light weight aluminum reduces front end weight over stock cast iron models.
Heat dissipation is another plus of aluminum over cast iron. Engines run better if the intake can rid itself of heat.
Our aluminum intakes are cast from steel molds, not sand molds. They provide a tighter grain casting, therefore reducing the occurrence of porosity which can mar the finish.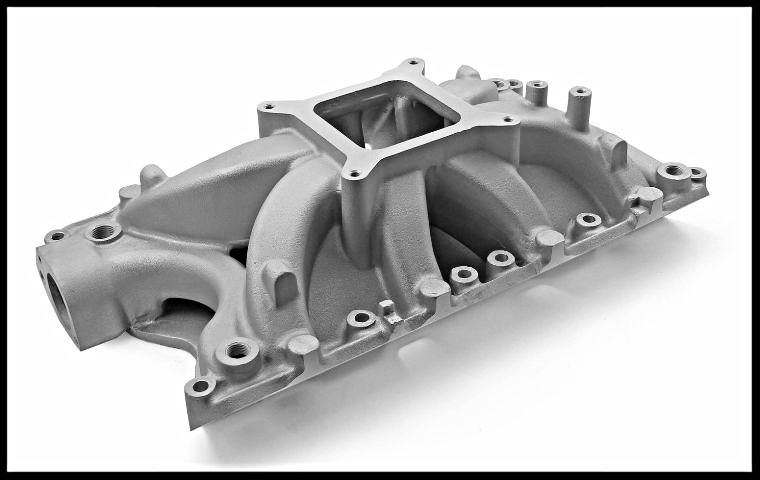 There are many reasons as to why these items are being closed out. Listed below are some of the many possibilities. Most all these items are in perfectly new condition. No gimmicks. We are in a rush to get our second machine shop up and going.
Left over stock of an item that was discontinued in the past.
A few have become slow sellers for us, as our business has shifted into high value items such as engines, rotating assem. and cyl heads.
We have purchased some items in bulk that were discontinued and have many of these items still in stock.
We're trying to clear out space for our new engine room and we're in a rush to do so.
Acquire funds to build our second new machine shop for building engines.
Important Note.
We offer a full line of the Speedmaster and Edelbrock intake manifolds. Be sure of what style manifold you need before purchasing. For installation tips, we suggest that you check the technical section of the various car forums. YouTube is also a great source for detailed installation instructions. As mentioned, we have a full line of Edelbrock manifolds in our other listings. It is our opinion that the Edelbrock manifolds are superior in quality, appearance, and performance. They are slightly higher in cost, but well worth the investment. They are also made in the USA.
Customer Reviews
This product does not have any reviews yet.