CHEVY 4.3 V6 V-6 SUPER 65K HEI DISTRIBUTOR 6520-R
$48.95
Available
---
Product Information
| | |
| --- | --- |
| UPC | 351193208770 |
| Product Type | Shipped Product |
| Shipping Cost | $10 |
| Number of reviews | 213 |
HIGH PERFORMANCE CHEVY SUPER 65K VOLT HEI DISTRIBUTOR 6520-R
FITS CHEVY 4.3 V6 ENGINES USING AN HEI DISTRIBUTOR
CHEVY V-6 4.3 65000 VOLT HEI DISTRIBUTOR.
This distributor fits the 4.3 V6 engines that are carbureted or have been converted to carburetion. The later V6 engines that are throttle body fuel injection require a different type distributor, (which we do carry, the late efi distributor series) unless you are converting your tbi engine to run with a carburetor. This is the distributor you need if converting to carb. This unit is made by the same reliable company that makes our V-8 model. The quality is very good. Also available with the oem style black cap for those wanting to maintain an original appearance.
Be sure you have a Chevy 4.3L V-6 engine in your vehicle. This distributor WILL NOT work with a 3.8 (229 cu in) V6 nor with a 200 cu in Chevy V6.

The only true 65K HEI on the market. This is the true original super 65K model with the Super style cap. The 65k voltage is factory marked on the package.
PART NUMBER 6520-R
COMPLETE DISTRIBUTOR, WITH SUPER CAP, 65K COIL, MACHINED ALUMINUM BODY, STEEL SHAFT, GEAR, MODULE, AND PICKUP!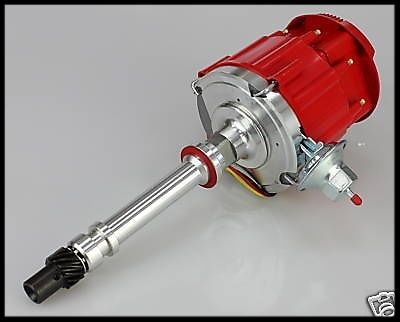 Please understand this price is due to a price war with several of our competitors. You will not see these at this price in the future. This is not a sales gimmick, just the plain truth. The quality is outstanding with a near zero failure rate. Our supply is very limited. Many garages have purchased these in case lots from us. This truly is the best deal you will ever see on a complete 65K factory marked HEI distributor. We simply refuse to be priced out by competitors. We have always been the no. 1 seller on this item, and will continue in this position.
This item will return to normal pricing very soon. Many of you are return customers, and I have promised to stay competitive. Several other items we have listed are in this same price war situation, so check out our other listings. Click the store listings tab. Others may claim to have a better HEI, but we find that not to be the case from our experience.
Tech info, please call 423-722-5152.
We are the no.1 wholesale marketer of HEI distributors in the country.
We have many garages and speed shops that purchase these in case lots from us. We have the best HEI on the market.
We have noticed other units on the market, but few are of this quality. It is the no. 1 HEI on the market.
We have possibly sold more of these than anyone in the country. This is a totally revised unit.
Full lifetime warranty, unlimited mileage!
This is the complete distributor body, shaft, gear, 65k coil, module, cap, rotor button.
This is the newest version on the market. This coil is essential on any modified engine.
Brand new in the box. First line item.
Email us for detailed installation instructions if needed.
This auction is for the complete HEI distributor, cap, rotor, dist. body, gear, and shaft.
Our distributor looks great when installed.
We have sold this same unit at our store for several years, and have many high performance engines in this area running this unit. The only difference is this is a much improved model. All parts used are brand new, first line quality. We know there are several manufacturers on the market, and we have been very selective in choosing the best company to make our distributors.
Notice the precision machine work the distributor body has. Many others are not like this. We have been very selective on our choice, as there are many HEI's on the market.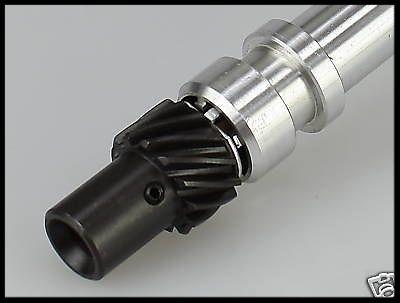 Fully CNC Machined - Polished Housing
Adjustable vacuum advance canister to improve economy while cruising
Premium caps with brass terminals, and a low-saturation Ignition module
It also offers true spark alignment for instantaneous response at high RPM
65K COIL, Factory marked.
EMAIL US IF YOU HAVE ANY TECHNICAL QUESTIONS.
This is the perfect upgrade for your classic Chevy, or just part of a tune-up. It would not be practical to re-install the original HEI back into your engine if you are overhauling it.
Here are a few problems you are most likely to encounter, when using an old distributor.
Excessive end shaft play
Bushing wear
Weak coil, worn or cracked cap, and button
Weak module
Corrosion buildup
Weakened advance springs
Gear wear
If going from points to HEI this alone is a huge upgrade
All of the above can greatly affect the performance of your engine.
These are just a few of the things that most old distributors have going on with them. For the low cost of a complete brand new one, it just makes little sense to use the original distributor. When we rebuild any early model Chevy engine, we insist the customer purchase a new distributor. You will notice a performance difference in your engine if you have any of the above issues with your old distributor. All of the old HEI's we see have excess end play in the shaft. I m sure the coils on them are not at full voltage. This is much more than the OEM model. All car makers have dramatically improved the ignition systems on cars and trucks. This is an indication of how important good ignition is to an engine.
WE ALSO HAVE ACCESSORY ITEMS AVAILABLE FOR THIS DISTRIBUTOR.
This distributor also has the performance curve setup. Do not be misled into thinking other HEI's on the market are superior to this. If anything they are most likely the older version. We have sold more HEI's than any seller, and we provide the newest models available.
The part numbers for distributors beginning with 65 and 85 are interchangeable. The distributors are identical in every respect. We changed the artwork on the package to private labeling and our supplier had to change our part number to distinguish our private label (85 series) from the standard labeling sold to other suppliers (65 series). You may receive the alternate part number since we still have both in stock.
very nice fast shipping

Reviewed by 4***4 on Jan. 25, 2017, 10:20 p.m. | Permalink

This review has no votes.

Great item fast shipping.

Reviewed by p***w on Jan. 22, 2017, 3:34 a.m. | Permalink

This review has no votes.

Fast shipping, Good value.

Reviewed by t***p on Jan. 22, 2017, 2:51 p.m. | Permalink

This review has no votes.