Product Information
| | |
| --- | --- |
| UPC | 351725489789 |
| Product Type | Shipped Product |
| Shipping Cost | $12.95 |
| Number of reviews | 0 |
MASTER TOP END KIT FOR BBC CHEVY ALUMINUM HEADS. MLS, (MULIT LAYER STAINLESS) GASKETS.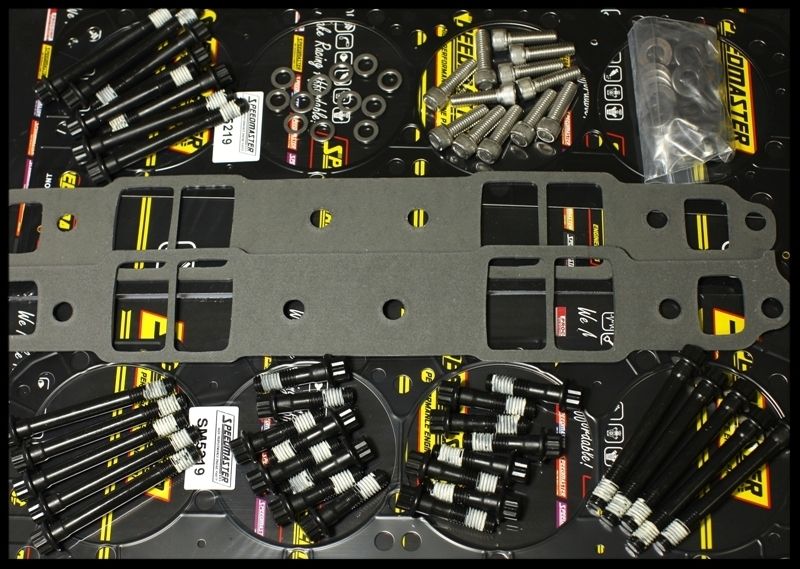 This is the exact kit needed for our Bravo 335 or Pro Comp bbc heads. Also fits many of the various aluminum heads on the market.
PART NUMBER, TEK-5211-1275-B
BORE 4.580 4 STAINLESS STEEL LAYERS.
The Speedmaster MLS gasket is comprised of four layers of Stainless Steel. Stainless steel for increased strength, it's ability to rebound and corrosion resistance. The outer layers of the gasket are embossed and coated on both sides designed to meet the demands of a variety of harsh sealing environments, load conditions and surface finishes.. The center or shim layer of the gasket is comprised of an un-coated Stainless Steel layer. The compressed thickness of these gaskets is .040 thousandths. The MLS gasket is ideal for both aluminum heads to cast iron blocks and aluminum heads to aluminum blocks. The composition of MLS will also withstand the shearing forces created by aluminum heads on cast iron blocks. No re-torque is necessary. By design the MLS gasket promotes an even torque load across the sealing surface allowing for measurable reduced bore distortion. A must for those running aluminum heads.
These gaskets are very similar to the Cometic MLS gaskets. The best designed gasket ever made. We are convinced that this type of head gasket is far superior to conventional style heads gaskets in every way. Most high performance cars use this type gasket straight from the factory. We have built numerous bbc high performance engines using this type of head gasket. Zero failure rate.
THIS IS EXACTLY YOU NEED WHEN INSTALLING A SET OF ALUMINUM HEADS ON YOUR BIG BLOCK CHEVY ENGINE. THIS IS THE CORRECT KIT FOR OUR PRO COMP BBC HEADS.
WE DYNO TESTED A 650HP 540 BBC USING THESE GASKETS. WE USED 3 DIFFERENT SETS OF HEADS PULLING THIS ENGINE TO 6500RPM OVER A COARSE OF 20 TIMES WITHOUT CHANGING THE HEAD GASKET WITH NO HEATING PROBLEMS AT ALL. WE WERE VERY SATISFIED WITH THIS GASKET AND WE THINK YOU WILL BE TOO.
The BEST sealing gaskets on the market today
Severe applications (Boost, NOS, high compression) can also be used on non high performance applications.
Reusable
Extreme sealing, durability
No drawbacks to running this type gasket.
Many new high performance cars use this type gasket
All three layers are made of pure 304 non magnetic stainless steel.
Correct length high grade 18/8 stainless allen head intake bolts are included. 1.50 length allows the use of any and all brands of aluminum intake manifolds.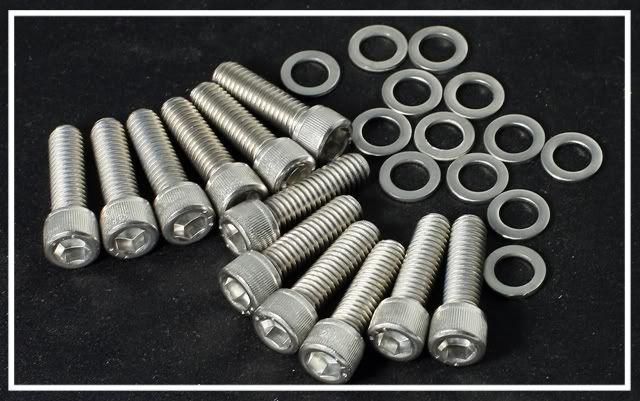 We do offer this kit with head studs also. I strongly recommend that you not use head studs unless you are very well skilled at sealing them. This kit with the traditional head bolts is all you really need for any engine that is in the 12:1 or less compression range.
RETAIL VALUE, $179.00 OUR PRICE IS MUCH LESS.
WE HAVE BEEN VERY SELECTIVE IN CHOOSING THE BEST OF WHAT'S OUT THERE.
32 PIECE BBC CHEVY EXTENDED REACH HEAD BOLT SET. SPECIAL WASHERS INCLUDED.
The washers are a very special type washer. The washers are 100 thousandths thick. Remember to install the washers with the flat side down against the cylinder head. The head bolts have an extended reach to compensate for the washer thickness. It is recommended using a thread sealant on all head bolts that enter the water jacket.
One of the most important benefits of the special style head bolt washers are that they distribute the pressure on the cylinder head, and provide a glide surface for the built in washer on the head bolt. This allows for much greater accuracy when torquing the head bolts. Those with aluminum heads must use the special style head bolt washers for two very important reasons. The aluminum surface tends to drag and gald against the head bolt, causing inaccurate torque readings. The other well established benefit for the use of these washers is the fact that aluminum heads are known to crack in the center area of the head directly under the head bolt. This area has been compromised due to the port location. When the aluminum heads are cast it is difficult for manuafactors to keep the integrity of these areas consistent. The washers positively reduce cracking the cylinder head in this area.
Those wanting to run just the special washers with conventional length head bolts will not be able to do this due to the thickness of the washers, as the standard head bolt length have a very limited reach.
We strive to keep our prices low, and due to the high volume that we purchase, this allows us to have the best price in the country. Many garages will buy several sets at a time just to have them if the need arises. Our shipping prices are usually the lowest you will find.
This kit has the Fel Pro 1275 intakes gaskets.
The stainless steel intake bolts are are allen head style. The specs are listed below.
Fastener Style


Allen head.
Thread Size


3/8-16 in.
Head Style


Allen head
Underhead Length (in)


1.50 in.
For use on alum. intakes




Fastener Material


Stainless Steel
Fastener Finish


Natural
Quantity


Sold as a set of 12.


THE TOTAL PRICE WE HAVE ON THESE ITEMS IS MUCH LOWER THAN YOU WILL FIND IF PRICED INDIVIDUALLY. THE HEAD GASKETS ARE FEL PRO'S RACE GRADE GASKET FOR ALUMINUM HEADS, AND THEY ARE VERY EXPENSIVE. THIS KIT IS ALSO FOR USE WITH CAST IRON HEADS.
Our sales staff has limited technical knowledge on this product and are usually unable to answer many of the questions asked. See our other listings for variations of this product.

We are not responsible for collateral damage caused by the use of this product.
Customer Reviews
This product does not have any reviews yet.